Free walking tours in Hanoi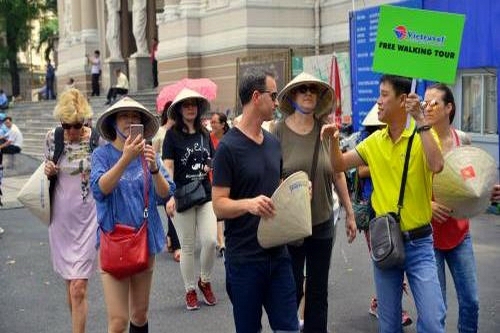 Hanoi Tourist Information Center is a joint venture between the Hanoi Tourism Department and Vietnam Tourism company to organize a free walking tour to discover the old town and the area around Hoan Kiem Lake. The tour guide team is students of Hanoi Open University.
In operation since the beginning of October, 2016, over a year, free walking tours are popular, especially for foreigners.
Cheap hotels in Hanoi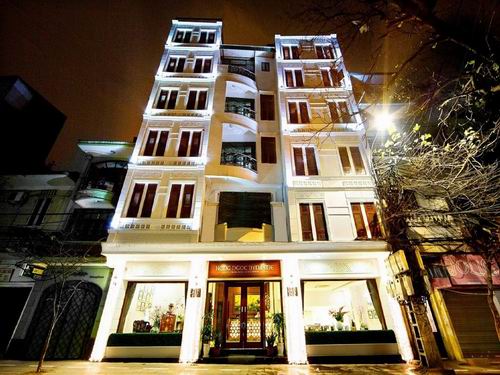 Before booking your hotel in Hanoi you should note the following:
- Book 2-3 weeks before the tour starts to avoid full booking and price rise.
- Check what services are included in the package
- Should bargain for prices, most public rates are only applicable to luxury hotels. For cheap hotels in Hanoi you can still pay lower than public prices.
Visit Hanoi by public bus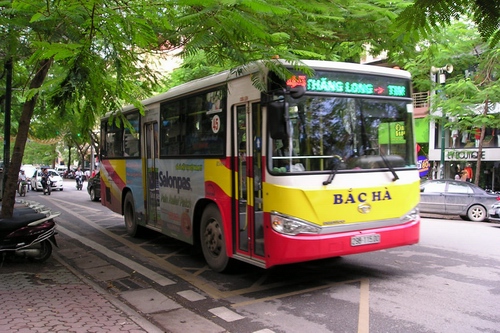 Bus 47 Long Bien - Bat Trang, fare 8,000 / person: With this bus line you will have a very new experience is to become ceramic artisan. You only need to sit in the bus and get off at the last stop that is the Bat Trang pottery village. You can shop for exquisite ceramic products such as oil lamps, wind chimes, bracelets...to sophisticated things such as as vases, cups.
Entrance fees to tourist attractions in Hanoi and around
Hanoi - Capital city of Vietnam is always an interesting tourist destination for domestic and foreign tourists. Hanoi is famous for Van Mieu Quoc Tu Giam (Temple of Literature), Thang Long Royal Citadel, Ngoc Son Temple. In this article we would like to introduce a lists of sightseeing tickets and entrance fee to tourist attractions in Hanoi.
More tourists coming to Vietnam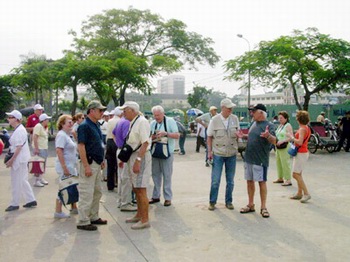 Costa Victoria will visit Vietnam in voyage Danang - Saigon - My Tho in 3 day time . This is the 8th visit of Costa Victoria to Vietnam since early 2013 and the 9th trip to Vietnam by international shipping company Costa Crociere in 2013.
Specialities in north Vietnam food

Materials to make Thang Co may be bone and bowels of cows or horses. People in the northern mountainous regions such as Lao Cai , Ha Giang , Yen Bai , when they go to market usually bring a few bags of "men men" or corn cake put in the basket bags and buy a bowl of Thang Co, that is a full quality meal . When the mood is high they can buy a bowl of corn wine.
Con Son - Kiep Bac festival

Con Son pagoda and Kiep Bac temple are famous historic sites in Hai Duong province. Con Son pagoda is located in the Phuong Hoang mountain range, about 70 km from Hanoi, the pagoda is one of the Zen centres in Tran Dynasty.
Son Doong cave opened soon

The tour is expected to last 7 days including 1 day for travellers to train and get acquainted with the equipment for the trip before the expedition to discover the unique values of the Son Doong cave.
Trip to Vietnam

After feeling like a Hollywood movie set, we went to southern Vietnam. We arrived in Saigon at 10:00 in the evening and at the airport was waiting for a taxi driver who had commanded our inn. The inn where we stayed was in the area of backpackers from Saigon, this area is so big and so important that this marked on all maps of Saigon!
Some Useful Tips About Travelling In Vietnam

Vietnamese are very physical set. Both men and women will touch you, for example your hand or forearm to grasp when they talk to you. Also in stores this is quite normal. Only when you really drawn somewhere inside it is not so free.
Vietnam travel and geopraphy

It contains four of the five "national wonders" world heritage of Unesco. It also reflects the interactions between many cultures (Tonkinnoise, Conchinchine, Indian Cham) and the glorious past of Annam, the name given at the time of the French.
Vietnam travel and tourism

Khmer people's new year festival lasts three days and four days in leap years. Each of these days has its own name. Apart from worshipping the Buddha, Khmer people believe that every year the heaven sends a god called Tevoda to the earth to look after human beings and their life.
Ninh Binh and Nam Dinh, the beauty of Red River delta

Adjacent to Nam Dinh is Ninh Binh, an indispensable spot for travellers planning their Vietnam tours. Ninh Binh is located south of the northern plain. It is surrounded by the provinces of Nam Dinh, Ha Nam, Hoa Binh and Thanh Hoa. It is 91km from Hanoi.
Travel to Vietnam by Yourself, Free and Easy

Choosing Vietnam travel allows you to discover this beautiful country without relying on a circuit constraints Vietnam. Several choices are available to you. You can meet the locals and share with them a unique experience. Homestays sleep is getting to know the culture, traditions and way of life different from yours. You can also camp in the heart of magnificent scenery or simply stay in a hotel.
Budget tour to Vietnam

A highlight of the trip to Vietnam is the motorbike tour in Hue, it cost only 30 usd for the whole day, including driver and petrol and a wonderful lunch at a monastery, we got picked up at hotel at 8.30, we drove through the countryside and visited a covered bridge across a small stream.
Vietnam tailormade tour

Travel Vietnam brings a lot of unforgetable experience. Even with a small budget, a join group tour package will still allow you to spend very good time in this country and do a lot of amazing discoveries. Vietnam provides an affordable destination for all types of visitors. You can enjoy your stay in a small family hostel or a 5 star beach resort if you prefer a luxury holiday.
Vietnam travel information

Vietnam has a history that reflects in it's culture and traditions, with its long and up and down history this land offers a diversified culture. Travelling the country from north to south visitors get to learn the different beauty of many destinations from mountain to seaside.
Son La, an interesting destination in the Northwest

Son La is the homeland of the flowers, primitive forest and mountain winding roads coupled with the natural landscape to create poetic sceneries about the great possibilities for sightseeing and photography. This region is located on a plateau above 1000m altitude above sea level.
Visit Vietnam Women museum in Hanoi

Anyone visiting Hanoi, regardless of gender, is well advised to visit the Museum of Vietnamese Women to have a unique insight into Vietnamese history that can not be seen anywhere else.
Vietnam budget travel

You can discover a Vietnam tour company online and you will discover many big organizations are making themselves available for visitors which come have fun with their holidays at this awesome position. Try to select a best company which will provide your needs of journeying, housing, overseas journeying and other needs.
Hoi An town and My Son Sanctuary

After the fifteenth century, the site fell into oblivion and no archive of the old Vietnamese dynasties mentioned it. Thus, when the French discovered in the late nineteenth century, My Son was fully engulfed in the jungle, in the image of Angkor Wat.
Vietnamese traditional dishes

Originated from the north, the Pho is undoubtedly the national dish. Noodles made from rice flour, dipped in a delicious soup. The taste of the soup is obtained by leaving immersed in water bones of oxen, onions and spices few hours before preparation.
Beautiful Lang Co beach

Since the Hai Van tunnel, which connects Hue and Da Nang, was opened and the construction of the deep water port of Chan May, Lang Co is also revealed as a young town with great economic and tourist potential. In addition to the deep water port of Chan May.
Mui Ne beach in Phan Thiet

Mui Ne is a hotel zone which extends 20 km east of the city of Phan Thiet. We went down to the train from Saigon 01 Nguyen Thong district is 3. The train is air conditioned too between 4 and 5 hours to make the trip. From Phan Thiet Railway Station we took the bus which goes to Mui Ne for 30 kvnd / ticket.
Modes of transports in Vietnam

For tourists, this is the easiest way to move quickly and safely. They are anywhere near the tourist spots. It is not necessary to know the price to be conveyed as taxis have a meter. But be wary of several things: Some taxis are fake taxis with meters tampered with, or even fake companies (including Ho Chi Minh City).
Visit the Mekong Delta

Visit the delta may be limited to a boat cruise along the two main branches of the river, which already gives a real feeling of immensity. But this first approach does not take full advantage of the geography of the site. Also, this boat ride may be supplemented by stops in different localities in the Mekong Delta.
Vietnam travel guide

Go and meet the Vietnamese is not necessarily obvious because of the language barrier. But a meeting in a café sipping an iced coffee, it leaves memories. To do this, no secret, we must have the courage to open up and move away a bit of the tourist areas.
Riding elephant in Buon Ma Thuot

A lot of travelers go to Buon Ma Thuot to ride elephants, and they must visit Don village or Buon Don, long been known for its hunting and elephant trainers M'Nong. Long time ago, elephants were raised to help local people in daily life, they worked on the rice fields, collected woods from the jungle, went hunting, transport…
Visit Vietnam, quick guide for backpackers

You can also book various excursions through the travel agency and they are very inexpensive. You can book a day trip to nearby places or they can also arrange excursions of 3 days or more including inclusive hotels and meals.
Travel Vietnam with PackageVietnamTours.com

Package Vietnam Tours offers curious travelers a wide selection of top travel program in Vietnam from major cities to share our passion for these beautiful destinations. Discover the lively atmosphere of Ho Chi Minh City, the quiet backwater of the Mekong Delta.