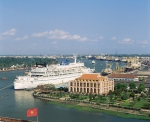 Day 1: Ho Chi Minh
On arrival you are picked up by tour guide and transfer to hotel. Free at leisure shopping at Ben Thanh market. Overnight at the hotel in Ho Chi Minh.
Meals: Breakfast, lunch
Day 2: Ho Chi Minh - Cuchi
The head quarter of Cao Dai sect is located in Tay Ninh. This religion was founded in 1923 and now numbers over 2 million members. After breakfast we travel by roads to Tay Ninh to see the ornate temple of Cao Dai and attend the fantastic mid-day service when the followers fill the hall wearing colored robes, a symbol of the curious combination of the Confucianism, Taoism and Buddhism. Afterwards we continue to the famous Cu Chi Tunnels, which were an incredible underground network constructed by Vietnamese fighters during the long struggle for independence. The tunnels contained hospitals, plus accommodation and schools, and were used as a military base for the Vietcong in the American war. Overnight in Ho Chi Minh city.
Meals: Breakfast, lunch
Day 3: Ho Chi Minh - Mytho - Can Tho

Drive to My Tho in the Mekong Delta region. Take short walk through a local market. Take a boat cruising along the mekong river. Visit local farming village. Enjoy a south region traditional music show - Cai luong. In the afternoon, transfer to Can Tho and free at leisure. Overnight in Can Tho.
Meals: Breakfast, lunch
Day 4: Can Tho – Ho Chi Minh
After breakfast take a boat trip on the Mekong river to visit Cai Rang floating market, watch local villagers producing rice paper, pop-rice and rice husking. Visit Cham village. In the afternoon, free at leisure until transfer back to Ho Chi Minh. Overnight at hotel in Ho Chi Minh.
Meals: Breakfast - Lunch
Day 5: Ho Chi Minh - Phan Thiet
After breakfast visit Notre Dame Cathedral, Centre Post Office, Independence palace, War museum. After lunch free at leisure until depart Ho Chi Minh City by road for Phan Thiet. The scenic 200km drive north on Highway One passes through the bustling city of Bien Hoa before cutting through dense rubber plantations. Nearer to Phan Thiet the terrain changes to arid semi-desert with cactus plants and strange looking dragon fruit trees. Arrive Mui ne and check in hotel. Overnight in Mui Ne.
Meals: Breakfast - Lunch
Day 6: Mui Ne
Enjoy a day to the completely untamed area with dunes from dark red to snow white sand and rive along kilometers of white sandy beaches with the sea on one side and endless Sand Dunes on the other. Discover the daily lives of fishermen and drive to an inland to discover the " White Lake" where snow-white sand dunes reflect themselves in the still waters. Overnight in Mui Ne.
Meals: Breakfast - Lunch
Day 7: Nha Trang
After breakfast leave Mui Ne for Nha Trang. Arrive Nha trang and check in hotel. Free at leisure at Nha trang city.
Meals: Breakfast - Lunch
Day 8: Nha Trang

In the morning, meet and transfer to Cau Da Jetty for a full day boat cruise to Tam island and Mun Islet for a relaxing day on the beach. Optional activities include scuba diving, jet skiing, wind surfing & parasailing on Tam Islet. Lunch at a local restaurant on the Island. Afternoon, free at leisure for relaxing at Nha Trang Beach. Overnight at hotel in Nha Trang.
Meals: Breakfast - Lunch
Day 9: Nha Trang - Hoi An
After breakfast depart by road for Hoi An (11 hours). Along the way stop for Dai Lanh beach, Song Cau bay and Sa Huynh beach. Arrive Hoi An and check in hotel. Overnight at hotel in Hoi An.
Meals: Breakfast, lunch
Day 10: Hoi An
In the morning, a half day city tour in Hoi An ancient town, a distinctive Chinese atmosphere with low, tiled roof houses and narrow streets; the original structure of some of these streets is still virtually intact. Many of the houses were constructed of rare timbers and decorated with lacquer panels engraved with Chinese characters and pillars carved with ornamental designs. Visit the Merchant house, the Japanese bridge, the community hall. Lunch at local restaurant. Free at leisure for relaxing and shopping in Hoi An. Overnight in Hoi an.
Meals: Breakfast, lunch
Day 11: Hue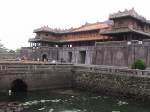 Transfer to Hue. Check in hotel. Visit the Imperial Citadel – first built by King Gia Long in 1805. Here you will visit Ngo Mon Gate, Thai Hoa Palace, The Mieu Temple, and the Nine Dynastic Urns and Khai Dinh Tomb. Overnight in Hue.
Meals: Breakfast, lunch
Day 12: Hue - Ninh Binh
Enjoy a boat ride on the Perfume River, Visit Thien Mu Pagoda and Minh Mang Tomb. After dinner depart for Ninh Binh. Overnight on bus.
Meals: Breakfast - Lunch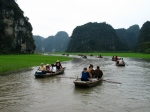 Day 13: Ninh Binh - Hanoi
Arrive Ninh Binh in the morning. Breakfast and relax. Our next visit is Ninh Binh - the place so call "the inland Halong bay". We visit Hoa Lu - the ancient capital in the 10th century and relax on a rowing boat along Tam Coc. Back to Hanoi. Overnight in Hanoi.
Meals : Breakfast, Lunch
Day 14: Hanoi - Halong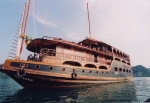 After breakfast depart for Halong city. Along the way we make a stop over at Hai Duong province to observe embroidery-making women at work. On arrival we embark on a boat for an exploration of the legendary Halong Bay. This exciting five hour cruise will provide us a fantastic view of the picturesque scenery blending with the sky and some 3,000 limestone islands rising amazingly from the clear and emerald water. The limestone Karst formations are littered with beaches, grottoes and beautiful caves. Visit the amazing Thien Cung and Dau Go grottoes. After a seafood lunch on board we return to Halong city. Free at leisure discover Halong city.
Meals: Breakfast, lunch
Day 15: Halong - Hanoi
Enjoy sunrise in Halong city. Free at leisure until tranfer back to Hanoi. Visit The lake of returning sword and Ngoc Son temple. Enjoy a famous Hanoi water puppets show before dinner. Transferring to train station for Lao Cai. Overnight in train cabin.
Meals: Breakfast, lunch
Day 16: Lao Cai - Sapa
7h30 arrive Lao Cai, pick up at Lao Cai Station then transfer to Sapa. Have breakfast and shower in hotel before the trip starts. A 8-km on the rim of a deep valley, followed by 30-minutes walk take you to so-called rattan bridge & the ethnic Ta Van village which is dwelled by Dzao people followed by a walking visit to Cat Cat village. Lunch at a local restaurant. Dinner and overnight in Sapa.
Meals: Breakfast, lunch
Day 17: Ta Van - Giang Ta Chai - Sapa

We start the trip after breakfast, heading up to Giang Ta Chai village of the Red Zdao tribe where you will have lunch. Amazing sceneries and beautiful waterfall are to be seen in the afternoon before going up to the main road where you will be picked up by motorbike/jeep. Ride back to Sapa and you might stop some times on the way to take photos of the fabulous valley of Sapa. Overnight in Sapa.
Meals: Breakfast, lunch
Day 18: Sapa- Bac Ha - Lao Cai - Hanoi
Upon leaving Sapa we set off on our scenic drive through the border town of Lao Cai to the colourful Sunday Market at Bac Ha (we change route in other days). This market also attracts a wide variety of ethnic minority groups including the Variegated Hmong, Dao, Phu La, La Chi and Tay. They still retain their old age cultural traditions and are recognisably distinct from each other by their dress. The experience of this congregation is colorful and unique. After the market we enjoy a walk around the area, visiting the Hmong King's former residence and Ban Pho where the villagers make the potent local maize alcohol. In the mid afternoon, you are transferred to Lao Cai train station for a night train journey to Hanoi.
Meals: Breakfast, lunch
Day 19: Hanoi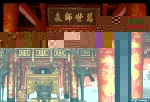 After breakfast enjoy a full day city tour starting with the Ho Chi Minh Complex, containing the mausoleum of the nation's founder Ho Chi Minh, the Presidential Palace and the Ho Chi Minh's house on stilts. The complex also comprises the One Pillar pagoda, whose origins date back to the foundation of Hanoi. After lunch visit Temple of literature, also know at the First university. Overnight in Hanoi.
Meals: Breakfast, lunch
Day 20: Departure
Free at leisure until transfer to airport for departure.
Meal: Breakfast